A Call for Action
In April 2019, the University of Toronto convened the Presidential & Provostial Task Force on Student Mental Health. The Task Force is part of a four-part action plan on student mental health and wellness, outlined in the President's letter to students, staff, and faculty on March 28, 2019.
In the final report released by U of T's Presidential & Provostial Task Force on Student Mental Health in January 2020, it was recommended the University "utilize our expertise in mental health research at the University to establish an institutional strategic research initiative focused on student mental health".
In the following Adminstrative Response, the University of Toronto outlined a plan for a new partnership with CAMH that would consist of four elements:
Transform our system of campus-based services
Create integrated care pathways between campus-based services and CAMH
Provide enhanced clinical education programs in student mental health for U of T trainees in the health professions
Create a new initiative focused on research excellence in youth and student mental health
Institutional Strategic Initiative Development
In 2020 and funded by U of T's Institutional Strategic Initiatives portfolio, the Student & Youth Mental Health Research Initiative convened the Steering, Student Advisory, and Clinical Advisory Committees to develop a Five-Year Strategic Research Plan.
Our goal was to collaboratively determine research directions that will:
advance knowledge and/or develop solutions to complex issues related to mental health and mental health program design and delivery that require cross-divisional collaborations and integrated, interdisciplinary approaches;
develop and evaluate new internationally recognized solutions to post-secondary student mental health challenges;
identify or develop shared mental health resources and/or facilities that can support student and youth mental health;
provide opportunities for the accelerated translation of practice and the dissemination of results into the public domain; and
leverage other aspects of the CAMH and U of T collaboration.
Over the course of the next year, our team consulted with stakeholders, including students, administrators, staff, and clinicians, from all three U of T campuses and CAMH to learn more about the student mental health research priorities of the U of T community. This community engagement built on the findings of previous outreach and engagement work conducted by the by the University of Toronto Student Mental Health Task Force.
Received 270 Student Advisory Committee applications and connected with 50+ student groups
Consulted over 30 additional divisional stakeholders, including academic & clinical leaders
Conducted mapping of student mental health research activities across all campuses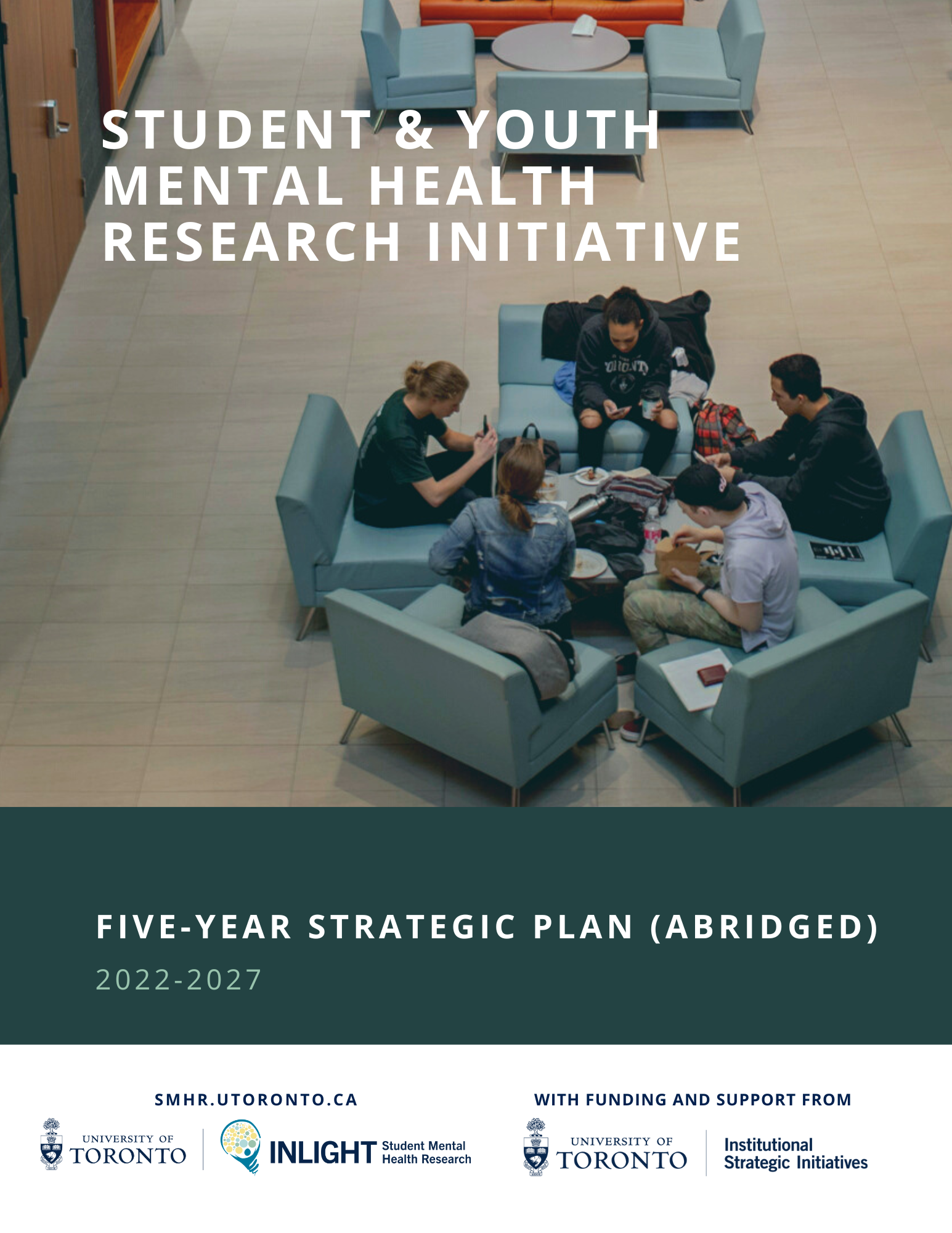 A Novel Approach to Student Mental Health Research
An important part of developing our Strategic Research Plan was understanding how we should be communicating about student mental health research with stakeholders across the University of Toronto.
Our Student Advisory Committee highlighted the importance of taking a strengths-based approach to mental health, and forefronting the importance of communication, connection, and collaboration. With these principles in mind, they led the process of developing a visiual identity for the initiative.
An emphasis on elements of growth, connectivity, and wayfinding highlight some of the main principles of this initiative and, as such, clearly conveying a sense of inclusion and community will be fundamental in our design decisions.
In partnership with our committees, we worked with students from UTM's Biomedical Communications Program to develop a visual identity and logo that aligned with our approach to student mental health research.

This logo was developed by Abeeshan
Selvabaskaran, MScBMC 2022 Candidate.
This logo represents the concepts of growth, connection, and research through simple shapes. Near the bottom is an individual in the shape of a tree with outstretched arms encircling a collection of circles within. The common shape of a circle represents the community and connected aspect of this initiative. The circles within are also used to represent the diverse research network that Inlight encompasses.
What Next?
Inlight will officially launch in Spring 2022. We look forward to sharing updates and opportunities with our partners across the University of Toronto and beyond soon!